---
(Español) Exposición etnográfica de los grupos del noroeste de Baja California, que muestra sus mitos sobre la creación del Universo y del hombre, a través de su producción material.
AUKA!
In Baja California there's a group called Yumans, known for be a part of the linguistic group by the same name. This are formed by the Kiliwa, Cucapa, Paipai and Kumiai cultures and their population is about 2 thousand habitants in a near area to the border with United States, surrounded by mountains, valleys, deserts and two seas.
Its origins are marked by three historical moments: early migration from the North; prehispanic settlement and the third began with the Spanish arrival until now. In this five century journey, the big economical, political and social changes and the global process has been given as a result the territory and population decrease, languages lost, traditional economic activities forbidden or detrimental and ancient culture abandon and dispute.
The Kiliwa culture with the smaller population of all and by that the one with bigger risk of losing their language. They are so dedicated to the livestock and live mostly in Arroyo de Leon.
The Cucapa live from fishing and livestock and they are located in Cucapa el Mayor, Cucapa Mestizo in Baja California and Pozas de Arvizu in Sonora.
The Paipai have a bigger population number opposite the other two, they dedicated themselves to the livestock and live in Santa Catarina, San Isidoro and Jamao communities.
The Kumiai are livestock and farmers, they have the biggest population number and live in San Jose de la Zorra, La Huerta, Juntas de Neji and San Antonio Necua.
For most of the Mexican people, yumans are unknown, that's the reason trough this exhibition told by themselves, we will learn a little more of its history, culture, experiences, myths, art, values, desires, utopias and fears.
Yumans are here and they salute us. Auka!
---

[:es]Memoria[:en]History[:], Textile
EXHIBITION PERIOD
February 23, 2013 - June 2, 2013
View Visitor information HERE
POSTER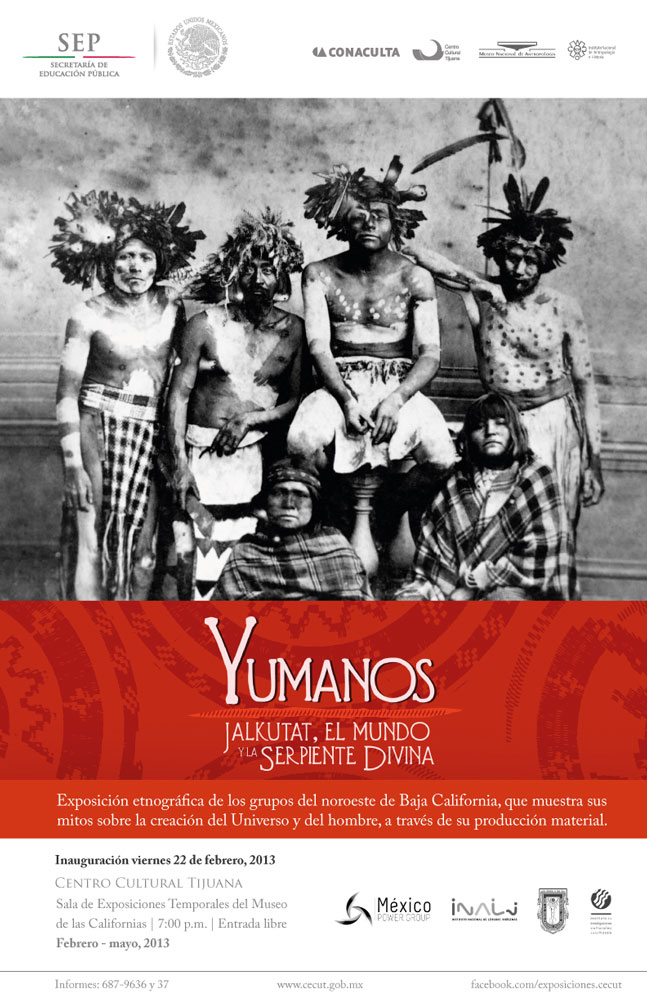 PHOTO GALLERY
Photos by: Carlos Varela